---
1979 Mercedes-Benz 300SD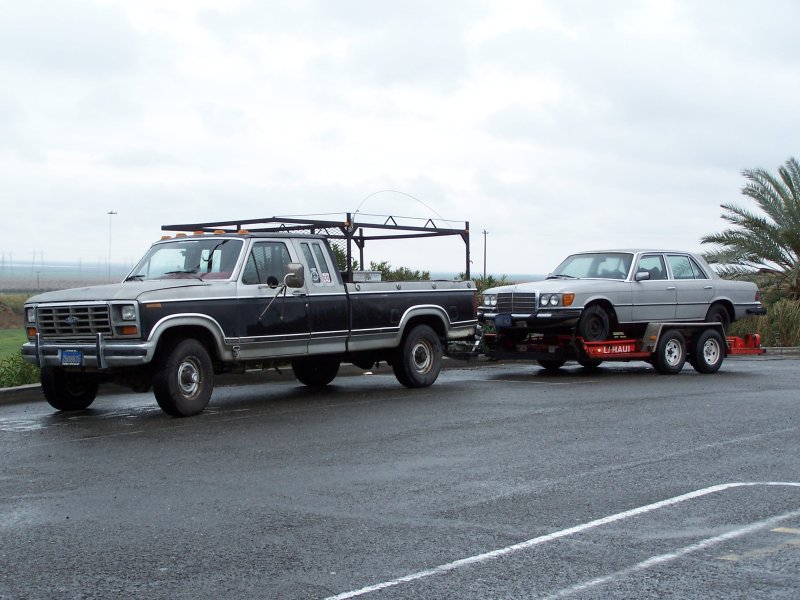 In October 2005, I drove down to Southern California to look at a 1979 Mercedes-Benz W116 chassis 300SD. A good friend of mine's father had used the car as a daily driver prior to moving to Iowa, and he gave the car to my friend to dispose of. In lieu of taking the car to the junkyard (which was my friend's first reaction), my friend and I were talking about me purchasing the car for $650, to replace my 1985 Mercedes-Benz W123 300D that needs more repairs than the car's worth (mainly to the front suspension, the body, and the interior; the 300D is still driven daily as of March 2006). In addition to not wanting to sink any more money into the 300D, I wanted to upgrade to an S-class sedan, which is physically bigger than the 300D (which is the predecessor to the modern-day E-class sedan).
After looking at the car and replacing the starter (with what turned out to be an improperly-rebuilt unit), I was able to drive the car...and discovered a shaking in the front suspension. This shaking is mainly felt through the steering wheel, and is only present above 55 miles per hour (note that it seems to disappear somewhere around 80 miles per hour, but I'm too much of a chicken to drive that fast on a public highway). This led me to decide not to purchase the car. I was later told that the shaking is likely a wheel out of balance. Considering that my friend's father's method of replacing tires was to go to a junkyard and find a wheel with the same bolt pattern and install the wheel and tire assembly (this is why the car has non-Mercedes steel wheels with no hubcaps in the picture), this sounded very likely. However, by the time I came to this conclusion, finances prohibited me from purchasing the car.
Then, in February 2006, my friend decided that he needed to get rid of the W116 one way or another. Due partially to this and due partially to him sympathizing with my financial situation, he decided to give me the 300SD. This came as quite a surprise to me, but I wasn't about to complain. Due to the rebuilt starter being inoperative and due to the shaking, I did not want to chance driving the car home, so I opted to use my Ford F-250 to tow the car up to the San Francisco Bay Area where I live. After dealing with some mechanical issues with the truck and dealing with school, I was able to drive down to pick the W116 up on the weekend of March 4th, 2006. The picture above was taken at a truck stop on the way home, on a rainy day in the San Joaquin Valley. I took some other pictures on March 23rd, 2006, and they are available on this site. After putting in another starter, the car is running and driving quite well (as of March 23rd, I've put about 100 miles on the car since getting the engine running on March 19th), although there are many issues that still need to be addressed (for instance, I need to replace the wheels and tires). I am currently planning to go over the car with a very critical eye to determine what all needs to be replaced, and decide from there what sort of long-term plans to make with this car.
I have divided the pictures I've taken up into interior and exterior shots. The car is not perfect cosmetically by any means, but for the price, it is in excellent condition. While it could use a new paint job (a previous owner conducted a cheap paint job that is currently starting to peel off), this car is rare for a W116 chassis in that it is almost completely rust-free with the exception of a few surface spots (one right next to the power antenna mast, and another on the hood, visible in the pictures). Surprisingly, the interior is in almost perfect condition.
Please Contact Administrator with any comments, questions, or concerns.

View My Guestbook
Sign My Guestbook

Page updated March 23rd, 2006

Page best viewed with Mozilla FireFox.